10 Reasons Why FeedbackSwift Is The Next Big Thing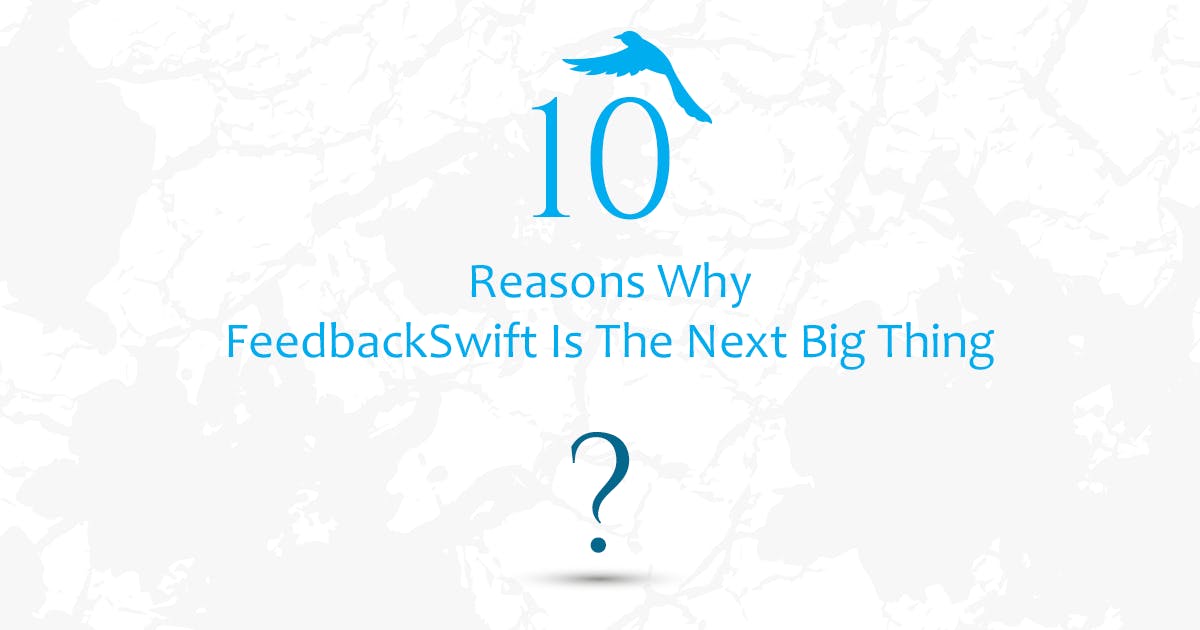 Is your business growing fast enough? Or is it just declining? Do you feel like you need to shake things up a little bit? More importantly, do you know where to start?
First things first: ask yourself a question – how much time do you have to create a sustainable development strategy? Do you know precisely what should be your main focus?
Did we leave you without words?
Sometimes the most complex problems demand the simplest solutions. To discover your business' weak points, you just have to ask the right questions. Learn more, and start from there. And if that sounds too time-consuming for you, we have just the tools for you. Let us introduce ourselves.
1.   We Try Harder
We are a team of dedicated professionals that developed the ultimate thing called FeedbackSwift. Essentially, it is a SaaS (software as a service) solution for building different types of surveys. In other words, we help you ask the right and relevant questions.
Now, you might have heard of similar and popular tools out there. Yes, it's fierce competition out there, but that is some good news for you – we keep trying harder.
2.   Everyone's a VIP
You could say it's our company's tagline. We strive to democratize the field of surveying and to make our software available to businesses of all sizes. Behind such practice, there lies a belief that sustainable growth should be available to everyone. That is why our basic subscription plan is called "fully covered", as it includes the use of all the core features. It means we've got your back!
3.   We keep it simple
Do you have time to watch tons of tutorials on how our software works? Most probably not. Should you be doing that? Not except if you are bored. Our interface is simple and precise, we provide a white-glove service for effortless set-up, and configuring a survey is pretty self-explanatory. Once you ask 3 questions, you'll set up the fourth with your eyes shut.
4.   Cherish your time
If you are in a hurry (and who isn't these days), or simply want to save some time, just let us manage the survey content for you. But, to be completely honest, you can do it on your own in a matter of minutes. Don't take our word on it – just sign up for free, and try it out for yourself. A piece of cake is guaranteed.
5.   Reliable data acquisition
Who do you think will be more sincere about your business weaknesses than your consumers? With their anonymity guaranteed, they will have no trouble informing you what went wrong in each segment. You are in a position to follow their footsteps, and discover if their path is having the right flow. Naturally, once you spot the blockages, you will find your chance for improvement.
6.   Be everywhere. Reach anyone.
Yes, it's like having a little mole that can see everything and report straight to you. Even better – you can have this mole virtually on any device - PC, mobile or tablet. Accordingly, your customers can fill out the questionnaires anytime and anywhere.
You know what that means, right? Yes - more reliable data acquired, and trustworthy results that you can check up anytime via SMS or e-mail.
In a word, it puts you in control of things.
7.   Constantly improving
We are sure you've got the point now. FeedbackSwift has done everything in order to speed up the process of acquiring and interpreting valuable information that can be used to boost your business. As an experienced entrepreneur, you surely realize what that means – it is a free and open space for additional financial benefit. So, do not waste a single minute anymore!
8.   We help you build trust
When speaking of surveys benefit, there is a crucial thing you should have in mind. Of course, time and profit are vital values. But, they derive from a much deeper instance – and that is trust that has been built between you and your consumer. By asking him a single simple question – are you satisfied? – you are not just collecting information, you are demonstrating that you care. Doing surveys is not all about asking questions, it is more like building a dialogue with your customers or employees.
9.   In clients, we believe
None of this would be valuable to you if our words remain empty. That is why we are proud to say that we are building trust with some of the leading companies, which include Siemens, Belmedic, Pharmed, TMS CEE, IPS solutions, and Hausaerzte-Gruenwald. Our portfolio keeps growing and we are inviting you to build trust together.
10.   Price tag
Last, but not least – there is a matter of our affordability. We don't want to do your math for you. Surely you manage your own numbers. Now that you know what's on the table, a little bit of investing in your business doesn't seem that costly, does it?
Embark with us on a survey journey. Sign up for free, and start growing from there.