5 Myths about Questionnaires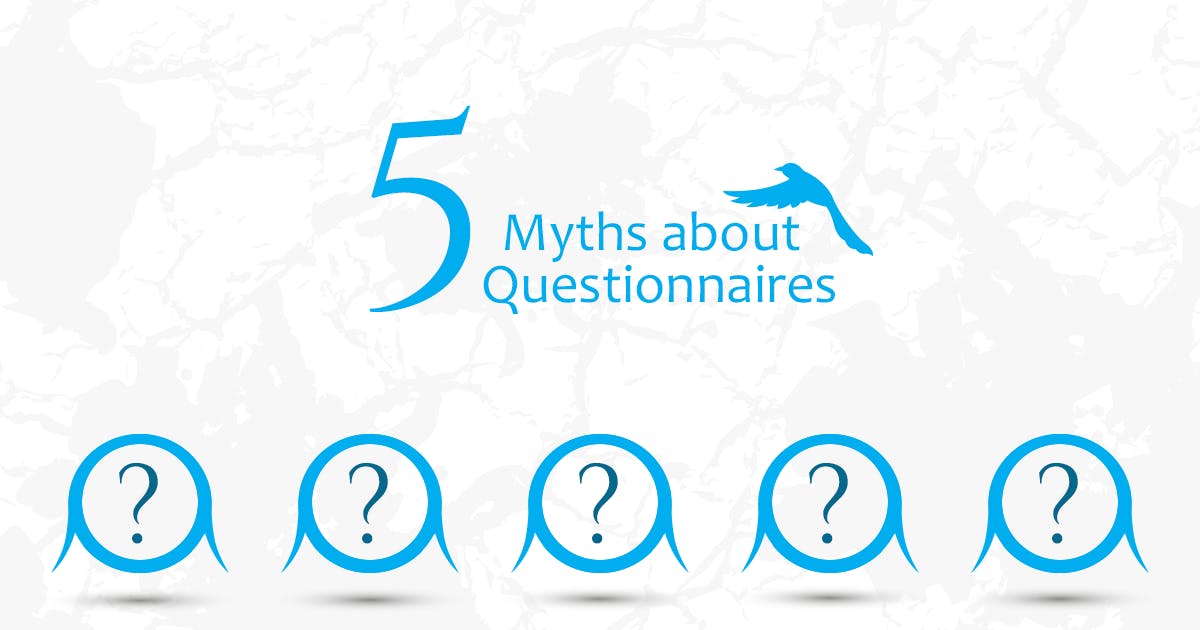 In 2012, The New York Times reported that doing surveys had become the new gold rush. It is now 2019, and obtaining valuable feedback is still a gold mine that empowers businesses' growth.
However, a variety of misconceptions can make the survey deliver unreliable results and reduced response rates. That is why we've created this short list of myths you should be aware of.
Myth 1: Questionnaires will only reveal what we already know.
When seen from the individual perspective, it's an easy mistake to make: with your finger on the office's pulse, you might think you have all the answers. However, numerous factors can hold the truth away from you: an employee might not be candid if he feels that your question is pressuring him, while a consumer can feel reluctant to provide direct feedback, especially when his anonymity is not protected.
The bottom line is that your beliefs can't and shouldn't count as facts.
The alternative is to create a safe environment that will yield unbiased answers.
Myth 2: Building a questionnaire is simple as that: you just ask, ask, and ask.
Your next stumble might emerge when deciding which information you need, and what should precisely be held as relevant. Naturally, the more data you collect, the more actionable results you can expect. The conclusion seems logical: I should ask everything.
But if we change the lenses for a moment, things are turned upside-down. There is a term "respondent fatigue", signifying the mental condition of a person answering the lengthy questionnaire. In other words, the weariness of your respondents might provoke dishonest or hasty answers.
A common opinion is that "respondent fatigue" can be prevented if the questionnaire doesn't take more than 10-20 minutes to complete, which means you should be brief, concise, and focussed.
Myth 3: The architecture of my questionnaire is flawless. Respondents will enjoy.
Your attention should concentrate on the qualitative aspects of the questionnaire, as well as on the quantitative ones. Don't exhaust them with open-ended questions, or cause repulsion with unbiased ones.
The experts formulate this procedure as "empathy", as it assumes that you are building the questionnaire with consideration on someone else's time, possibilities, and preferences.
Myth 3: Building an online survey costs money. Why invest when I can use the resources I have?
This question should be rephrased as follows: why should you spend more in the future when you could invest less right now?
The calculation is simple: making a survey demands time and resources. Without proper support, you could be investing significant resources in vain, ending up with unreliable results.
The beauty of our digital age lies in the vast affordability of software solutions. Investing in your growth doesn't have to cost that much anymore.
Myth 5: Incentives are insulting, ineffective, and pricey.
Incentives are a somewhat slippery moral ground, bringing surveys close to economic transactions. Nevertheless, they are still effective tools to fight indifference and weariness.
Even symbolical incentives can higher up the response rates and promise more accurate data, which certainly makes it a fertile ground for investing.
Take a look at our survey platform: Feedbackswift. Any subscription plan includes FeedbackSwift mobile application, custom URLs, color themes, unlimited statistical analysis, multilingual content, user interface and many more.